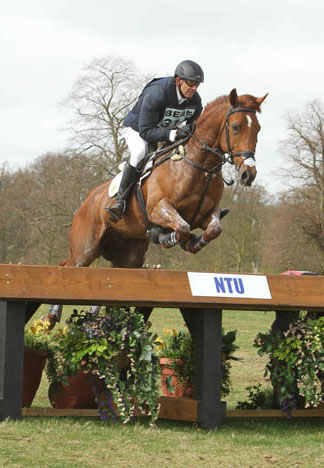 I'm just home from a weekend of competition at Belton Horse Trials. It was nearly a very good weekend – but I'm cross with myself for a couple of errors on my part which let down an otherwise excellent couple of days.
Starting with the positives Alex was mega in his first Advanced run. You never know how a  horse is going to respond when you step them up a level. I was quietly confident with Alex who I've had since a he was a four year old but it was still breaking new ground.
He's improving all the time in the dressage and was much more secure and forward in his work in his first Advanced test. He then jumped a confident show jump round today, just having the last down and one time fault. The fence was really my fault but all in all he jumped a lovely round. He then cruised around the cross country – I chose to take him all of the direct routes – rather than fiddle around some of the options (which was the difference between the Advanced and CIC3 star track) and he took them all on, staying true on his lines and giving me a peach of a ride. I couldn't be more thrilled with him. He will now head to Burnham Market for his first 3 star CIC so fingers crossed for another good run there.
Ricky had a good spin around the OI. He did a confident dressage test to score 27 and then jumped like an old pro in the show jumping and cross country. I didn't go quick as it was his first proper run for a while but it was nice to be back on board and like putting on an old pair of slippers – I really enjoyed our spin together.
Alfie, Silks and Womble were doing the CIC*** and after the good dressage performances of Alfie and Silks on Friday I rather let Womble down on Saturday morning. Suffice to say he was on bright and early at 8.20 and I got my timings wrong. He hadn't had enough work so it was all a bit exciting in the ring. I'm not concerned as I'm confident he can and will do a good test – he was just rather pleased to be at a party and I need to make sure I allow for that properly in my preparation. His score was disappointing and entirely my fault.
Alfie, Silks and Womble all then did their jumping phases today – I was lucky enough to have Roland, my show jump trainer, with me to warm up for the show jumping which was a real help. I've worked with Roland for many years but it is the first time he's come and helped me at a show. I found it really helpful and it gave me a lot of confidence – and it paid off with three lovely clears!
Alfie and Womble then went beautifully but steadily around the cross country, feeling confident and in the groove which was a really nice experience.
Silks, who was very well placed after the dressage and show jumping was another story – to cut a long story short I gave him a bad ride. Very unlike me, but I have to be honest and say I did over two of the  first 5 fences. I then got my act together, however, my errors had made him suspicious and when we came to fence 7, the double of Olympic benches on an off set long one stride, he wasn't confident in me to go off the long one stride distance. He put down and we turned over, despite me getting a good shot in.
I can't blame him as although I gave him a good ride at this particular fence I didn't ride well at several of the preceeding fences so I'm very frustrated with myself as the ground was good and it was an educational course that I wanted to ride him around.  Thankfully we both walked away from the fall and hopefully neither of us will be too sore in the morning and we can crack on – with the aim of rerouting to Weston Advanced next weekend, and in between getting in some cross country practice so that Silks is happy with it all and I give him a decent ride!
So all in all a good weekend at Belton bar one or two little blips which were rather frustrating. There is no margin for error at the top of our sport and I need to bring my A game every time.
I thought the event at Belton continues to go from strength to strength and the ground was good, having benefited from the rainfall of recent weeks. The show jump tracks were up to height with the time being tight in each section. It all rode well and I liked the cross country course and the changes which continue to be made to the track. I will be back next year for sure.
Cheers,
Bill
Posted 6th April