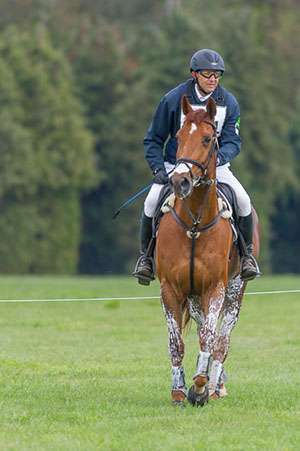 We're home from Burnham Market and it's been an enjoyable few days – and in some ways it was a little bit of a holiday! Strange, you might say, but I only had three horses to compete over three days, Hayley to help (who is based with me) and Jenny and the kids came and stayed. We were lucky enough to stay in a nice B&B so it really was a bit of a break!
The great news from the weekend for me was that Alex went beautifully to achieve his 3 star qualification on his first attempt at this level. He scored 47 in the dressage and jumped a super double clear – I didn't push him cross country as today was all about the qualification and the ground was definitely on the firm side. I was thrilled with him and for his owners, and am now looking forward to taking him to Tatts for the CCI*** at the end of May, all being well.
It's a pleasure producing a horse from a four-year-old onwards – I get a real satisfaction from it and end up really connected with the ones I have from the very beginning. Alex is in that camp – I first spotted him during the 'gallop' at a Burghley Young Event Horse class.
I also had Womble and Alfie with me doing the CIC***. I didn't run either of them cross country as the ground was too firm for my liking and I didn't feel they'd benefit from the track in terms of cross country education, so I have saved them for another day. They both did nice dressage tests, although the judging for Alfie was a bit polarised with one judge having him up with the leaders and another nearly 30 marks behind – never mind, that's how it goes sometimes and I definitely feel he is continuing to improve, as does Gareth who I train with.
Womble did a nice test – still a few little niggles but he continues to improve and is getting stronger and more established all the time.
I was lucky to have Roland with me for the show jumping to walk the course and warm me up which I always take a lot of confidence from – Alfie jumped a super clear, jumping out of his skin. Alex also jumped beautifully. Womble jumped 90% of the track beautifully and then I frustratingly made a small mistake adding an extra stride in to a combination which left him a little underpowered, causing us to have a couple of rails. He's not the easiest in his head carriage but he is a great jumper – I just need to give him a better ride, but another learning experience and he's still young.
Hayley had a good weekend, stepping Piggy up to 3 star. He went OK in the dressage, lots of improvement still to come but a good baseline established. He jumped beautifully, bar one small mistake, and then went well around the cross country for her especially at the bounce in to water and accuracy questions. He just frustratingly for her dropped a hind leg in a ditch one from home leaving her with no option but to represent before a final element – still much to take from the round.
Cuppi did a nice test and smart clear show jump round but didn't run cross country – it was never in his plan to run as we are still building his fitness after his long period in quarantine to get him to the UK from South Africa.
So all in all a good few days away – today I'm teaching and galloping the horses and then tomorrow a clinic at Ely Eventing, home to Little Downham event. Never a dull moment in the life of an eventer!
Next weekend I'm closer to home at Withington which will be a nice treat, although I see I'm first on at 8.00am – but I hear the rain coming down as I write this which means we should have some softer ground and as usual at Withington some great tracks to jump around.
Cheers,
Bill
Posted 20th April – photo Trevor Holt