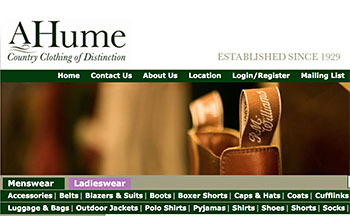 I'm excited to tell you that A Hume Clothing (
www.ahume.co.uk
) have very kindly agreed to help me with my trot up gear for Badminton!
Now anyone who knows me well knows I'm no style guru, but my whole life I've coveted RM Williams clothing and boots – they are a great Australian brand of clothing and make great gear… AND A Hume are a distributor for RM Williams in the UK.
They have very very kindly agreed to help with kitting me out in a suitable outfit, half Aussie (RM Williams shirt and trousers) and a great British jacket, representing my UK base/home and family!
I will look very smart, and now all I've got to do is not trip up running down the trot up strip in front of Badminton house.
Cheers,
Bill
Posted 29th April