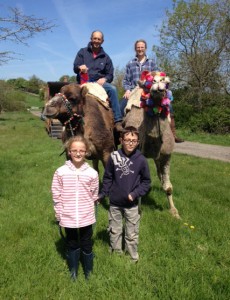 It's been a curious day today! We started the day with an outing to ride some Camels local to us on a trek around the Cotswolds, in a beautiful area on an old grass gallops. We won the opportunity in a charity auction months ago, raising funds for our local school. It was a glorious English summer morning with the sun shining and not a cloud in the sky, and the bluebells and birds were out. It was a beautiful place and one of those rare treats – a 'magical moment' as Jenny would say, when it was nice to take a moment and enjoy the countryside doing something special as a family.
The bubble was soon burst and I was back home to ride the horses ahead of Rockingham tomorrow and then off cross country schooling with Silks, Alfie and Womble to jump a few specific types of fences at Boomerang and with Taperz.
It was a very worthwhile afternoon and I'm glad I went as it was definitely educational, and helps me go to Badminton feeling as prepared as I can be with as best as possible nothing left to chance.
I am at Rockingham tomorrow with Silver, Dotty and Ricky and then team training with dressage test riding on Monday ahead of leaving for Badminton on Tuesday.
All coming around very fast now.
Cheers,
Bill
Posted 3rd May