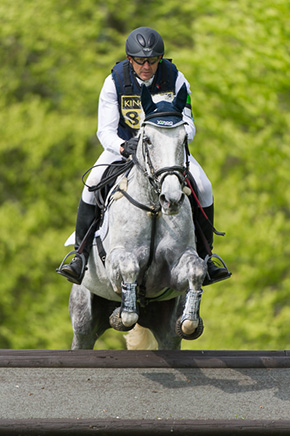 I was back at Rockingham today with Ricky, Dotty and Silver doing the AI and Intermediate respectively. The intermediate cross country seemed to cause quite a lot of problems but my three handled it all very well which I was thrilled about, especially with Dotty for whom this was only her second ever intermediate cross country track.
The going was extremely good and the course nicely educational for intermediate horses – a great event and one which I'm sure will continue to grow and grow in popularity – if only all events were like this one, it is a great event in so many ways.
Dotty was a bit more settled in the dressage and as always she gave me a nice ride cross country. But her show jumping is still not going to plan. She warmed up beautifully but then she gets in the ring, gets tense and just runs past her takeoff spots which is a real shame but it does give me hope that with time this phase will get a lot better.
On the cross country course there were technical questions and a few fences that needed the horse to be quite brave. I think for an intermediate course they got it just right. I even saw a few really experienced advanced horses having an outing. Silver did really well with a third placing. It's nice to feel her so confident at intermediate level in all three phases now – she is a lovely mare, a pleasure to do and ride.
There was a prize of a £7500 watch today for the person closest to the optimum time with no time penalties in the AI and OI sections. I really tried hard to do this with Ricky but unfortunately ended up with 0.8 of a time penalty, one of those things – grrrr. But Ricky gave me a great round, double clear, and felt at ease going at that speed and around the track like an old pro. I did take him as quickly as I could, there wasn't a lot of galloping left by the time we jumped the last.
All in all a good day and the last horses to compete before we head down to Badminton on Tuesday – it was on my mind on the last of my rides today coming down to the last fence that I didn't have any falls. All being well I have a clear run now until I take my two to Badminton.
Cheers,
Bill
Posted 4th May – Photo Trevor Holt