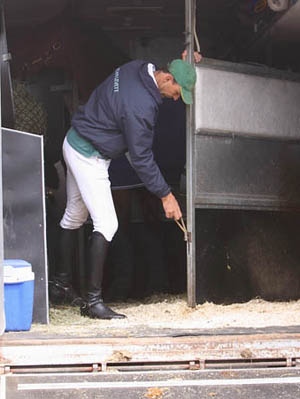 It's been a good day today with final preparations for Badminton. Silks went swimming early this morning as planned – swimming has been a key component of the fitness programmes of both Silks and Alfie in the run up to Badminton and I owe Nigel and Karen Ridout a big thank you for being so accommodating in terms of always being able to fit us in to swim the horses at a time that's convenient to the horses schedule and not necessarily always to them.
After swimming I headed off to  team training  with Alfie and his trusty nanny Toddy for some dressage fine tuning ahead of Badminton. The EA team tried a new format which I wont divulge but what I would say is that I found it extremely helpful and it was a really productive session.
It was then a quick turn around to get back for the horses to have a massage (what about me I say!) and for me to say a quick hello to my long suffering English family as it was my mother in laws 70th birthday today and I managed to miss the whole thing bar waving goodbye to everyone as they left – the joys of an eventers life!
Finally the day has culminated in our dear friends Colina and Alex Pickles bailing us out big time with the loan of their lorry for Badminton. Our long awaited, much anticipated lorry isn't ready at the final hurdle – a long and sorry story that I will not bore you with but suffice to say my team, led by Emily, have been brilliant and our friends have also helped out so we will have a lorry to take to Badminton for the week tomorrow.
Cheers,
Bill
Posted 5th May