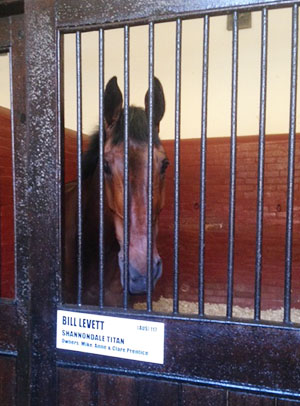 With much excitement (and relief) we're at Badminton and have settled in Silks and Alfie. I'm feeling well prepared and ready for the week ahead – I just need to continue with the focus, execute the plan and do the best I can for the horses and my team.
A massive thank you to the team behind me that's helped to get me here – the girls at home, Eleanore, Kelly, Maya, Verity, Poppy, Hannah all ably led by Emily. Nick our farrier, Maggie and Anna our physios, our vets Tom, Spike and Pottsy, Grant our equine dentist. Not to forget Lisa, Charlottie, and Jason who support keeping our lives on track. If I've missed anyone I'm sorry – the danger with this kind of thing – you all know how rubbish I am at remembering everything other than dressage tests and courses!
I also wanted to mention my wonderful sponsors – most of all TopSpec who've been with me on this journey for more than ten years – they were my first sponsor and have stuck with me, even when I've not had horses at the top level. In more recent years with sustained higher level performances I've added other products I really believe in and use including Verdo bedding, Succeed, Uvex goggles, then my riding and horse gear from Classic Dressage and Jumpers Choice, and also Butet saddles, and a special treat for the Badminton trot up my favourite clothing from RM Williams supplied by A Hume country clothing. So I'm feeling very spoilt and well supported.
For our Badminton adventure Silks and Alfie are in the capable hands of Alice (a seasoned pro who I've bribed out of retirement as she now has her own thriving equine massage business), and Emily who knows our horses inside out.
It will all happen very fast over the next week. I'll do my best to keep you updated but excuse me if I'm not as swift as usual as 3G is in scarce supply at Badminton and wifi non existent!
Tomorrow we have the trot up and then Silks will be on bright and early on Thursday morning as I think I'll be sixth to go.
Cheers,
Bill
Posted 6th May