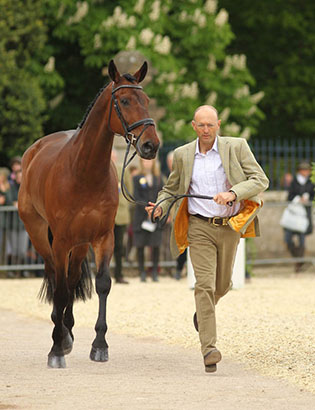 It's been a good and busy day at Badminton today. Silks and Alfie had a good hack this morning and were both good, although quite on their toes – they are definitely both feeling very well which is really pleasing, although will be interesting in terms of dressage test riding! They are both more on their toes and aware of the atmosphere than I had perhaps expected but I'm sure they will settle and grow/learn from the experience.
Today also brought the rider briefing and then my first course walk – first impressions it is big and relentless and beautifully built with few (if any?) let up fences, and it will take some jumping – it's a proper, proper Badminton track and a true four star test, the biggest four star test I've seen since Wolfgang Feld built Burghley. I'm looking forward to giving it my best shot.
This afternoon the trot up took place and Alfie and Silks both trotted up well and then had dressage lessons on the flat with Gareth, and a chance to do some arena familiarisation.
So all in all a productive day – tomorrow the competition really gets cracking with Silks on at 10.10am.
Cheers,
Bill
Posted 7th May