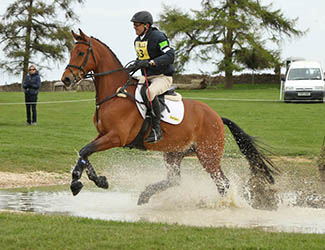 It was a very wet start driving up to Bishop Burton with a lorry full this morning. I can't remember if I have ever been to Bishop Burton before – if I have it was a long time ago.
Today we had two novices and three intermediates. In the novice we had Gus and Sparkles and they are settling into that level nicely. Gus (pictured earlier this year) jumped a nice double clear, earning himself another point. Sparkles had a clear show jumping but unfortunately a lack of communication between us on the XC resulted in him picking up 20 penalties, just a green mistake, not a big issue  Other than that he was very good.
There was a combination – an A&B element of quite tall flower boxes on some undulating ground – which wouldn't have looked out of place at intermediate level. The overall shame of having runs today, Sunday, was the huge amount of rain that fell yesterday which made the ground far from ideal. If the ground had been OK I would asses it as quite a strong but educational novice track.
I had Silks, Dotty and Silver in intermediate sections. Silks felt fine after his Badminton experience and I was really keen to see what he would feel like cross country, but because of the ground we just did the dressage and show jumping. Silver did another nice dressage and had an unlucky pole, but seeing as she has had a 2nd and 3rd in her last two intermediates, she was also done for the day after the show jumping.
Dotty, after her great performance at Aston finishing 7th, was slightly tense again today.  I must remember that she is still very inexperienced at this level so I'm hoping over the next few months she can settle in the dressage and jumping to have some more good results. Dotty is a XC machine and so again we saved her for another day.
The courses, had they been on good ground, would have been beneficial for horses at all the levels, but for under confident horses or riders I think it would be better to look for a slightly softer track.
We have a quick turn around tomorrow for Tattersalls with Alex and Womble, and Hayley is taking Cuppi and Piggy. Let's hope for some nicer weather than Badminton week.
Cheers,
Bill
Posted 25th May