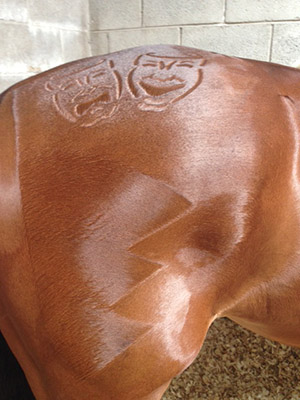 Today it was the turn of Womble and Piggy to do their dressage at Tattersalls.
Piggy was up first with Hayley  – this is not Piggy's favourite phase and he is currently going through a transitionary phase in his training. Hayley did a good job to keep things together and keep everything even in the ring. Piggy is going better at home in his training but is not yet producing that quality of work in the ring at a competition. However with time it will come. Hayley did a good job in the circumstances  and Piggy excels at the next two phases so they have the fun parts to look forward to!
It was Womble's turn in the CIC*** this afternoon and I was really pleased with him. He stayed confident and relaxed and let me ride him in the arena which was exciting. He feels so much more mature than this time last year and is continuing to develop his core strength and with that his ability to hold himself in self carriage in his frame. We made one mistake being late in our second change but other than that I was pleased with our work overall and I feel we are on track for our main goal of Lumhuhlen in two weeks time.
Piggy, Alex and Cuppi all go cross country tomorrow and I'm off to walk the three star again and get clear on the minute markers and my lines at all of the fences. I'm looking forward to learning more about Alex tomorrow around what I feel is a strong but fair track – it will be a real test for Alex but he's ready for the challenge.
Hopefully the rain will continue to stay away and if it does the ground should ride well.
Cheers,
Bill
Posted 30th May