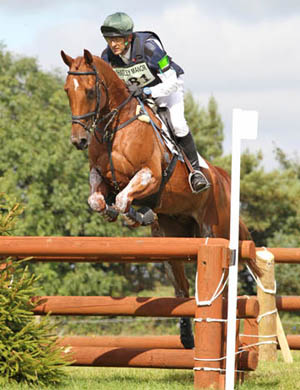 It's been a long day at Tatts today and the sun has shone all day! I'm just back from wheeling the minute markers for the CIC*** course which I ride tomorrow lunchtime on Womble after show jumping first thing tomorrow morning.
However the day started long ago with an early morning hack with the girls, taking out Cuppi, Womble, Piggy and Alex before the cross country got under way.
Piggy was first up at lunchtime in the CCI**, and by and large Hayley had a good ride around the track on him. There was much to be positive about from their round and they've come home safe and sound, with more mileage together as a combination and ready for the next phase and events to come. The CCI** coursed plenty of problems with several big name riders hitting the deck so it was a good accomplishment to get around the track and do so with 98% looking organised.
Next up was Alex in the CCI***. It was a big test for Alex who is still young at only 9 but I have a lot of confidence in him. He's always been a great cross country horse but has only done one CIC3 star and one Advanced so I was very aware that he's still very green at this level. However he answered all of my questions very well and I couldn't be more pleased with him. He came home with 8 time penalties and jumped well around the track with one or two green moments at the rail corner over the big ditch and at the coffin combination where he got a little confused about what I was asking him to do. He flew through the main water complex and the majority of the fences he took in his stride. I took him within himself as I didn't want to push him at his first CCI***.
The final horse out was Cuppi with Hayley, and sadly it was not their day. Cuppi got stuck in the ground and tripped on landing over an oxer early on and they had a tumble. It was very frustrating for them and one of those things which can happen without any good reason – I'm very disappointed for her as I was willing her to have a good run around the track. Thankfully they both seem to have walked away from it without any scrapes and there is always another day with horses.
Cheers,
Bill
Posted 31st May