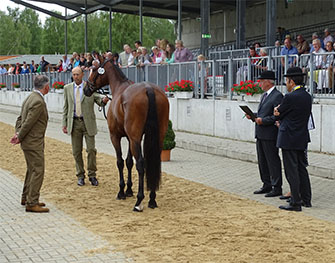 So today the competition got underway for us – with the trot up late this afternoon. Womble was v laid back, taking it all in his stride.
Before the trot up we had a chance to get a first look at the course – there is plenty to do in the eleven and a half minutes, with four water complexes and plenty of technical lines and accuracy questions off a turn. I'd say its not as big as Badminton in terms of the physical dimensions of the fences BUT it is definitely a four star test with I think more technical lines and accuracy questions than Badminton this year.
There are questions all the way around, from the first water at fence four until the second last fence – so Womble and I will both have to be on the job – which is the aim of the game. Between now and then we have our dressage – we are drawn at number 39 out of 53 competitors and will go just after lunch on Friday. Thankfully all horses passed the first trot up which is always a good thing to see after the effort people go to to get to these major competitions.
We are off to a BBQ with the Aussie crew tonight as one of our Aussie team vets lives close to the event and his parents are very kindly hosting us all – it's certainly BBQ weather at the moment here in Germany. The forecast is for the weather to ease a little in terms of mugginess which I will be grateful for, especially come cross country day.
More to follow tomorrow.
Cheers,
Bill
Posted 12th June – Photo Ali Butler