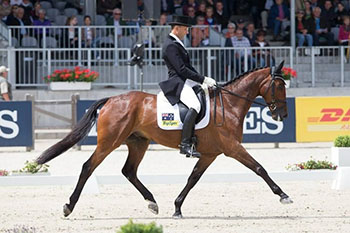 Today was a big test for Womble, stepping up a level in the dressage to four star for the first time in a big atmosphere, and I couldn't be more proud of him. He went very well and did a pretty much mistake free test to score 47.7 and be in 11th place after the dressage.
I can predict that it won't be a dressage competition but it's not the point tonight! Tonight I'm just thrilled that the dressage training with Gareth, which Equestrian Australia have supported me with, is really beginning to pay off. Womble is really gaining in strength and confidence and developing in his training, and I feel more confident as a rider. I value and enjoy my lessons with Gareth and he's improved my skill level hugely in the last few years.
Tomorrow is another day and it will all come around pretty fast tomorrow as the four star runs in the morning from 9.00am onwards. I'm on at 11.10am central time and am hoping for a good ride. I will learn a lot about Womble – it will be a big test for him as it's his first four star and he's still young at 10. The ground will ride fast I think but there is a lot of turning on the track; turning up to fences and away fences which will be tricky to ride fast within – Mark Phillips has built an interesting track which requires intelligent riding. I will need to do my part but Womble will also need to settle and let me ride him.
Cheers
Bill
Posted 13th June – Photo Ali Butler