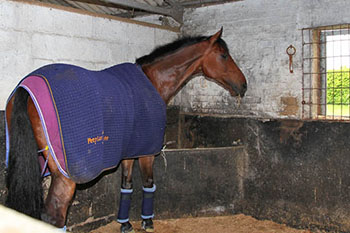 So the run of 'spring' three day events is over and it's now time to focus on the continued training of the older horses who are back in work (bar Womble, who's having a well deserved holiday post Luhmuhlen) and will be focused on to autumn goals.
Alfie (pictured) and Silks had good dressage lessons with Gareth on Tuesday and I will continue to have weekly dressage lessons with Gareth through to my autumn three day goals – he's helped me both with technique and confidence so much over the last year or so.
The babies are also back in from their spring holidays, looking as fat as butter but well and happy. They have grown up a little physically and mentally. Dylan and Cassie are nice horses to produce and so I will be cracking on with the next phase of their education over the next few months. They may or may not do some of the 4YO classes, it will really depend on how they are progressing and whether I think it will be beneficial to their education without stressing them too much physically.
We are all set for Salperton on the weekend, with a trip to the gallops yesterday and some jumping at home over the portable cross country fences. Now we just need some rain please to freshen up the ground before what I'm sure will be a good weekend.
Cheers,
Bill
Posted 19th June