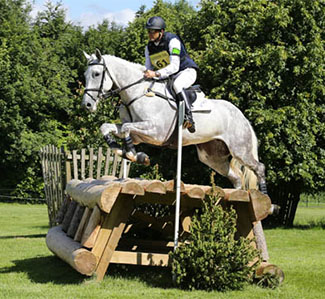 It's been a good day today. The sun has shone but it's not been unbearably hot and we've had the privilege of eventing at Salperton. It is a wonderful venue, a house and acreage which has a beautiful setting on which David Evans and Richard Taylor have built a great cross country track, which is beautifully presented. And all with the added bonus of being 40 minutes up the road!
Today I had Silks, Silver, Dotty and Alfie competing. Silver (pictured) started the day off well with a lovely double clear and respectable dressage in the intermediate to take fourth place in the 7/8year old class.
Dotty, also in this section (but only seven), showed strong improvement with a more settled dressage test and just rolling a pole in a tough show jump track before storming around the cross country – her favourite part. Both young horses showed improvement and maturity about their job so I was really pleased with them.
It was then a bit of a wait for Alfie and Silks in the advanced intermediate. Alfie did a good test bar a little excitement at being pleased to be out at the beginning of the test. Silks also did a pleasing and rhythmical test.
Both horses then jumped lovely clears in the show jumping, which was great around a strong show jump track: up to height with related lines and built in an arena which has some undulations within the terrain, so it's a good test for horse and rider.
Alfie was in the lead going in to the cross country but we never planned to run him, given his goals for the autumn.
I did run Silks, and let him run on as I wanted to try a new cross country bit on him and it seemed to work well. He gave me a great ride and I was really pleased with him. He ended the day in fifth.
The cross country took a different route this year, with us jumping the water in the opposite direction. It still seemed to cause a surprising amount of trouble, I'm not quite sure why.
So a good day at the office, back tomorrow with the novices, Gus and Sparkles.
Cheers,
Bill
Posted 21st June