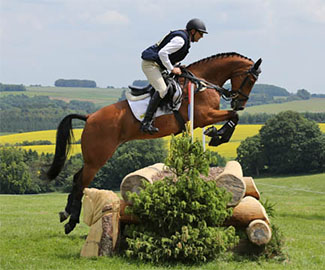 Another glorious day in the Cotswolds and an educational day for Gus and Sparkles, between them they managed to jump a double clear!
The show jumping and cross country at Salperton are always up to height but beautifully built. It is a great educational experience for a young horse as the show jumping is colourful and dressed with lots of flowers and things to look at and the trade stands surround it, which is great experience.
Sparkles seemed to leave his brain at the entrance and spooked badly at the first show jump and was then rattled for the rest of the round – not our finest hour but he grew in confidence after the first four rails so I'm not overly concerned  – it was just 'one of those baby rounds'. He then went well cross country around a tricky track with some good questions, coping well with the technical fences. So I'm very pleased with him.
Gus (pictured) on the other hand jumped a lovely show jump round, feeling very grown up and rideable. He then went very well cross country – confident and true, bar one green mistake at a skinny brush. Just one of those baby things again, and overall lots of positives to take from the day.
I made it back home in time to swim Alfie – I envied him in the nice cool water and was tempted to dive in and join him, although don't think he'd have appreciated that!
The day was topped off with a BBQ at home with family and Anita, who I'm very pleased to have with us for a day or so – Anita has been a wonderful host (and organiser of clinics) for me in the US and so I'm very glad to be able to return even a little of her wonderful hospitality.
I have a busy week ahead, riding and schooling the young horses at home and giving a few cross country PC training sessions at Swalcliffe.
Cheers,
Bill
Posted 23rd June