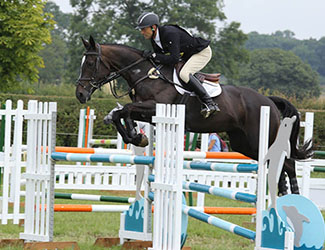 We were back at Aston this morning with Dotty for the intermediate. We didn't have too early a start, which I was thankful for as we had a nice relaxed BBQ last night with Sam and Lucy Griffiths who had been staying with us for the weekend.
They left at the crack of dawn for the Game Fair at Blenheim where Sam was competing, and I was grateful for a slower start having had two long and hot days at Aston on Friday and Saturday.
Ann and Nigel Taylor do a wonderful job at Aston to put on such a great event, which is accommodating to riders, and provides as great ground as humanly possible for horses and good viewing for owners. And in turn riders come out in their 100s for the opportunity of a run.
Dotty was not in the mood for dressage today – enough said! However she jumped a lovely clear in the show jumping which I was thrilled about and then, given the ground was good, her owners asked me to see if she has gears across country. Suffice to say she certainly does; she gave me a cracking cross country ride and came home safe and sound. She is so good in the cross country phase and her clean sheet cross country remains intact.
Tomorrow evening I sadly take my parents back to Heathrow for their long trip home. We've had a lovely five weeks together and it's been a special time, topped off by a dancing competition post dinner tonight – they certainly are a barrel off laughs at 80 plus years young – I only hope I'm in equally good shape and spirits at their age.
I have a busy week ahead with dressage lessons, a trip to Weston Lawns for some show jumping and the ongoing fitness preparations and training will keep me out of mischief, along with helping Josh and Ursula prepare for their first one day event of the year at Broadway on Saturday.
Cheers,
Bill
Posted 21st July