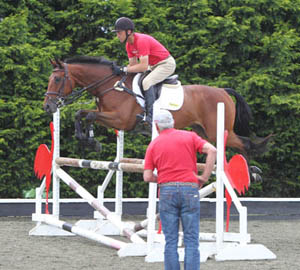 Wow, what a summer we are having. Today we had another hot day in the Midlands. I wanted to get Alfie and Womble out again to do some showjumping and so we headed off to Weston Lawns. It was nice to go somewhere different as I haven't been there in quite a long time.
We just snuck in at the end of the day to do the 1m30. Alfie jumped a good clear with Womble just having one down over quite a long, up to height track. Team Levett is just trying to get everything in place to be able to jump a clear round on the day when it really matters.
We are working our way back down the A46 now but stuck in a bit of traffic. It was good to take Hayley and her two horses along this afternoon. Cuppi after Bramham seems to be getting back into the swing of things and this week Piggy has had a XC school and showjumping outing. Both Hayley and I are hoping he will start turning the corner and give her a nice ride, which he has all the ability to do.
Cheers,
Bill
Posted 24th July