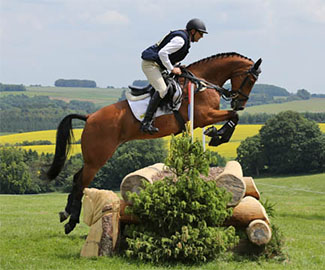 Another welcome drop of rain greeted our arrival at Homme House with Gus, Sparkles and Piggy today. It's amazing how just a little bit of rain can take the sting out of the ground, and the ground did feel really nice today.
Gus (pictured) and Sparkles continued to improve around a novice that was causing enough trouble. They both did good dressages, Gus getting his best score to date with 19.5.
They are both getting more competitive in the show jumping, with them again both jumping clear. I didn't run Sparkles cross country because he is to do his first intermediate run at Aston on Thursday. It was a good day to push on a bit with Gus and just have around five time penalties. As I left he was in the lead which I think is where he'll stay which was pleasing.
Hayley continues to progress with Piggy and her partnership with him seems to be improving. He has another run in a couple of days time at Aston around the intermediate. The run around Homme House in the novice today was just to set him up for Thursday at Aston. So all in all it was a good day – to get a nice run on good ground at this time of year is always a bonus. Let's hope the good ground will also greet us at Aston and Hartpury this week.
I'm hoping that the bad luck of last weekend with Womble and my tumble is behind us. It was not the best weekend for Team Levett as poor Urssie and Poppy also took tumbles this weekend – they say things come in threes. So there has been plenty of ice used to heal the humans while Womble has benefited from some acupuncture and spa treatment, lucky fella!
Tomorrow it's dressage lessons for me and then Aston on Thursday with Dotty and Sparkles before heading to Hartpury on Friday with Alfie for the CIC3 star.
Cheers,
Bill
Posted 5th August