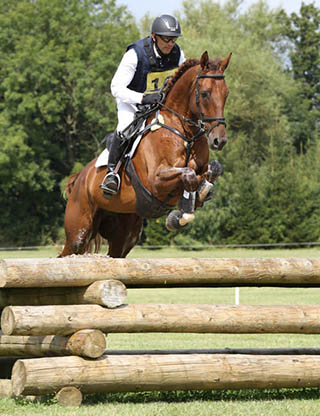 Today saw the team up before sunrise and on the road in convoy to Somerford Park as we had a yard outing. Hayley was competing Cuppi and Piggy and I was riding Alfie, Womble, Dotty, Gus and Sparkles (pictured). Somerford is one of my favourite events so I was keen to give as many of the horses as possible from the yard a run, and also, with WEG and Burghley on the horizon, keen to give the younger horses a run.
Somerford did not disappoint with great ground and interesting courses for the horses which I felt were educational for the younger ones and 'got the eye in' of the more experienced ones.
Dotty continues to gain experience at Intermediate level. She was more settled in the dressage again and went brilliantly cross country – she show jumped well although a little spooky at the start but I'll give her that as she had a nasty scare at home when she tripped in an exercise earlier in the week so she had every reason to be cautious – she loves to jump, bless her.
Alfie was having a run after missing Hartpury and I was very pleased with him. He jumped a confident double clear and I was able to give him a quicker run on the good ground – he really enjoyed himself, I could almost feel him beaming from ear to ear as we went around.
Womble was also having an outing after our swim at Gatcombe – I had taken him cross country schooling earlier in the week and he was brave doing that so I was hoping he'd show no ill effects from his fall, but you never really know until you are out there doing it – so I was thrilled that he gave me such a confident and relaxed ride around the track.
Gus and Sparkles rounded off the day and did not disappoint, both jumping nice confident double clears and ending up in the placings. In fact Sparkles came home first, achieving his first win at Novice level and a win for the yard. So a good day all round. Very much worth the trip.
We are now en route home before a quieter weekend at home with some family time with friends and also horse activities including supporting Jenny and Ricky at Solihull – the pressure's on to maintain the winning streak!
Cheers,
Bill
Posted 15th August