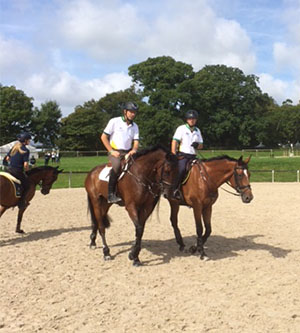 Today my focus has been on getting organised for the cross country challenge that is before us tomorrow, giving Alfie a jump and supporting my team mates doing their dressage tests.
The organising committee have decided to make a couple of amendments to the course taking out two loops and two jumps which are particularly wet, which reduces the course by about a minute in length.
Don't worry there is still plenty to do tomorrow and it is a true four start test.
I am off to walk the course again and sort final preparations for tomorrow.
Thank you to everyone for their messages of support yesterday after my dressage – I could not have been more proud of how Alfie went, really trying hard in a big atmosphere. I have not been able to reply to all messages as phone and wifi signal is intermittent here, but thank you everyone
Cheers
Bill
Posted 29th August