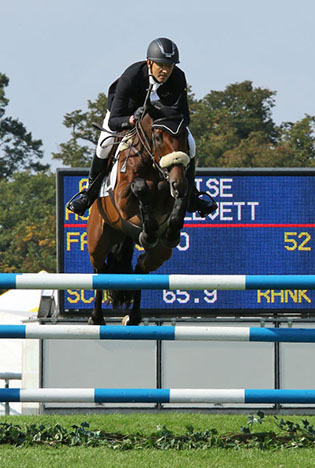 You never really know how a horse is going to cope around a big four star track and, as I write this, I'm relieved and excited to say that Womble has surpassed all of my expectations.
I have always loved and rated him and felt he has a phenomenal engine and stamina, but I was not 100 percent sure if he would cope with the size and number of questions at Burghley, both cross country and in the show jumping on the final day.
He's got all the talent but would he let me ride him. His rideabilty has always been the challenge over the years, once his adrenalin is up – however today on the final day at Burghley he felt more mature from the moment I got on him this morning after the trot up to give him a stretch and a little pop. He felt settled and more rideable and together – which is very exciting.
I couldn't have been more pleased with him; he's still a young horse with low mileage having only done one three star before making the step up to four star this year – and this year he's been 9th and 6th in his two four star runs.
The ground in the show jumping arena today was perfect and the course flowed nicely with a good variety of questions. I felt the course builder had been very fair given the rigours of the day before. Jumping after galloping for eleven and a half minutes around some of the toughest terrain in the world makes it a whole other ball game though! However Womble was mature and let me ride him in the ring and we had a good round, bar one moment coming to the last oxer before the last line (triple bar to a double of verticals). As I turned to the oxer he slightly switched off on me, however he still made the back rail of the oxer and didn't get too flustered.
It's been a roller coaster couple of weeks, with the build up to WEG and then the highs and lows of WEG, followed swiftly by Burghley – my team of Em, Poppy and Eleanore have been stoic and so consistent throughout and have really pulled together at a very busy time.
Womble and Alfie will now have a well deserved holiday before what I hope will be an exciting and successful 2015 campaign. I'm luck to have two such lovely horses – poor Alfie has had such an unlucky year; he's jumped around two of the toughest cross country tracks eventing has ever seen (at Badminton in the spring and WEG this autumn) and has yet to get the finish he deserves, but I feel sure his time will come.
For me I now have a quieter time competing wise. With the older horses finished for the season I have time to focus on the younger horses which I enjoy, as I love producing the younger ones and we have Weston Park to look forward to with Dotty and Sparkles.
In the immediate term I'm off to Ireland this morning (I'm writing this sat at Birmingham airport) as I'm on the selection panel for the Monart Sale, so today we are doing a pre selection day. I will then be training at home with the horses and going each day to Blenheim (it's only up the road from us) to help Hayley, who is doing the three star at Blenheim with Cuppi.
A final thank you to everyone for your good wishes over the last few days and weeks – it means a huge amount, thank you.
Cheers,
Bill
Posted 8th September