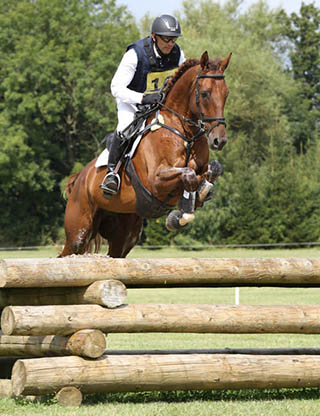 Sadly today hasn't gone to plan. It was an early start and, despite having a good run down, it felt like it took us a while to get there.
Dotty went well in the dressage. It was good to get her out and about ahead of Gatcombe CIC** next weekend. She was pretty settled in the dressage and then she just tipped out two rails in the show jumping around a tough track – she jumped well and I felt she was very confident. I decided not to run her cross country as the ground was firm enough and she has Gatcombe coming up next weekend.
Gus and Sparkles (pictured) were doing the Novice and Intermediate Novice respectively. Gus did a lovely dressage and then show jumped clear but sadly had a fall on the flat in the water jump without a fence in sight. It was an unhappy moment as the horse didn't deserve it at all – I'm convinced he tripped in a hole or unevenness in the water as others had 'moments', and despite me being the only faller others felt it was not quite even as it should be in the water base.
Sadly poor Gus is rather battered with cuts to his knees, shoulder and face – but with some TLC from my fantastic home team he should soon be on the mend – hopefully.
Sparkles was doing an intermediate, test which he coped with pretty well. He then just rolled two poles in the show jumping being caught out a little by the bigger fences, and it took him a few fences to settle in to his stride. He then went very nicely for a steady clear cross country – I did trot through the water jump after my earlier ducking!
Thankfully I walked away without any damage from the fall – but today is illustrative of the ups and downs of my sport as last Monday I was riding high on the back of our Burghley result and this week I'm on the deck with soggy boots and breeches!
Next stop Gatcombe at the weekend where I hope for a happier time.
Cheers,
Bill
Posted 15th September