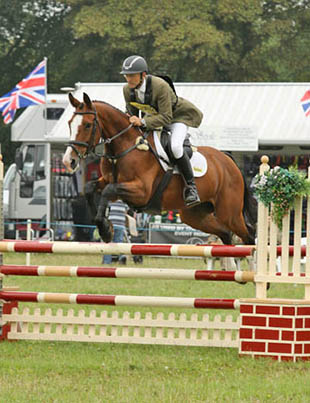 Well the end of the season is nearly here, just two more events to go. It was nice to have the intermediates up at Kelsall today. When I say the intermediates I mean Sparkles (doing his second intermediate run), Moo (my first ride around an intermediate track on her), and Dotty (the established intermediate).
They were all really well behaved in the dressage and were fairly well placed in their sections. I would have to say they did as good a test as they have at this level so that was really pleasing.
The showjumping didn't quite go according to plan. Sparkles got a little bit lit up in the arena and had two down which was a shame as he warmed up really well. Dotty had the back rail of a couple of oxers but is still definitly giving me a more settled ride between the fences. Moo (pictured) jumped the best round with just one down; it was unlucky just to run into the front of one of the oxers. I find the show jump arena at Kelsall does create quite an atmosphere for the horses, which is good in terms of bringing them on experience wise so I feel Sparkles in particular, who is still very green, benefited from the experience and will continue to grow and develop.
I thought the cross country was designed in a way that gave you plenty to do, and definitely wasn't an easy intermediate course. But all three jumped around beautifully. I was particularly thrilled with Sparkles as it was only his second intermediate – I think he will have an exciting future and he has the gallop and ability to go advanced. Although if my wife has her way he'll be sold before we get that far!
It's still early days for Moo and me as a partnership. She was certainly stronger at the fences today than she was when I rode her around the novice at Gatcombe. I only had her in a simple snaffle so it's not a concern, I just need to try a couple of different bits to try and have a smoother partnership, across country particularly, until she builds her confidence with me. In between the fences she relaxes and doesn't pull at all so I think with time it should work really well.
Cheers
Bill
Posted 28th September