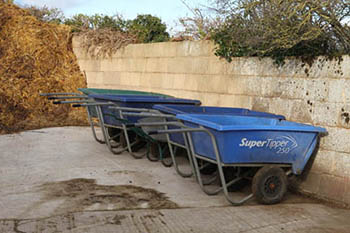 Weston Park was my last event of the season and I couldn't have been more pleased with how Dotty went. Janet Plant put on a superb event with good ground, courses and (finally) electric hook up which all made for a great event despite the rather damp conditions. Dotty did well and she is still only 7. She will have 10 days of 'bringing down' before she goes home for a holiday and some well deserved R&R with her owners, who bred her and love her. It is great for them to have her at home for a spell.
I have yet to get my spell – things have still to get a whole lot quieter around here. I seem to have moved from riding to odd job man, running around 'doing jobs' alongside riding the young horses. I am a little sore as I write this as one of the youngsters tried to test my Oz roots and behave like a rodeo pony – the outcome of which was I won (stayed on) but my body doesn't feel much like it as I got wrenched around a little.
I love this time of year as I get to spend more time with the family and catch up with friends more at the weekends, and lead a more 'normal family existence' – including sadly the lists of jobs which I do my best to loose every time Jenny writes one!
We have started a new hunter livery service this winter to try to find routes to keep the business ticking over during the eventing off season – we have our first resident and we hope to take on one or two more and to provide a small and personal service in our yard, which I like to think is a calm environment for horses, with a good routine and an experienced team. We have great hacking and are in a good location for many local hunts – we shall see how this new little venture pans out. If you don't give it a go you just never know!
Cheers,
Bill
Posted 16th October