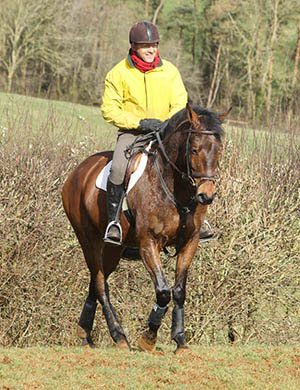 It's back to work for me today – and back in the saddle, which I'm really happy about! Don't get me wrong, I love my holidays and it was especially nice to get to spend time with the kids, Jenny and my Australian family this Christmas on the coast at Byron Bay. However I am now itching to get cracking with the horses and to get out eventing again.
January is always a busy month, with horses to get ready for the coming season. Most of my horses have been back in work since November/December so that they are 'ahead of the game' in terms of having done their long and slow road work to get their core fitness and walk work done by the time January comes around. This has two major benefits; firstly that I can crack on with schooling the horses ready for the season, which seems to come around quickly enough every year. And secondly that if we get some bad weather – which can often happen in the UK in January/February – there is no mad panic in terms of the horses overall schedules/plans.
While we were away much of the planning was done for the coming season. Jenny is invaluable with this as I'm not known for my computer skills, let alone spreadsheet skills. She is able to help me look at what we did last year horse by horse in terms of their work programme, competitions they attended and results, and then look at what changes I might want to make to each horse's preparation and competition goals. It is important to also then stand back and think overall about what big themes I want to focus on to continue to strive to raise my game and improve my performance overall, and in terms of the partnership I have with each horse. Of course, the one additional and important ingredient is what the owners would like to do with their horses – without them I wouldn't be able to pursue the sport which I love, and ultimately the plans we make need to include the 'fun factor' to ensure we have a plan that is something that each horse's owner/s would like to do and enjoy being a part of.
So with planning very much under way it's back in the saddle for me, back on my rowing machine and off the alcohol, to ensure both I and the horses are in the best of shape for the season which is only a few short weeks, I think 10 roughly, away.
Cheers,
Bill
Posted 5th January