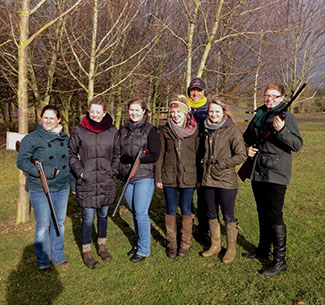 It's been a good week for Team Levett; we've managed to dodge the snow which seems to be falling in other parts of the country, and the horses are all going well and in the groove for their spring season goals.
We have had some good news that with the support of my wonderful owners I think I will be able to head to Rolex with Womble. This will be another lifetime ambition ticked off the list – very exciting, more to come.
We also had a morning out as a team doing some clay pigeon shooting and then a warming pub lunch  – we have had some new people join the team and so it was nice to take some time out from the busy day to day of the yard and go and have some laughs doing something we'd not done before, without a horse in sight!
Much fun and laughter was had by all and no injuries incurred  – and yes I did win! My wife says that's not the point and not gracious of me at all – but I cannot help it, if there is a competition to be had I feel the desire to try and win 🙂
The first entries are in for the coming season and the horses are jumping, schooling and upping their fitness programmes another notch.  So far so good.
Cheers,
Bill
Posted 30th January