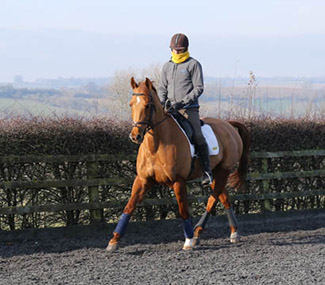 It's been a week of upping both the horses and my fitness and stepping up my training sessions.
My time as a truck driver come horse rider is ramping up as I'm now out and about to training sessions with Gareth Hughes on the flat and Roland Ferneyhough for show jumping. Even though I've been riding for thirty plus years I still find eyes on the ground invaluable and I learn something every time I go for a training session which helps me improve my skill level or my horses way of going.
At this time of year I tend to do quite a lot of gymnastic jumping with the horses – this doesn't disappear during the season as it's an important part of my ongoing training with the horses but coming out of the winter I find it a good way to get their jumping muscles back in to shape and to get them thinking and listening to me, and thinking about where they put their feet and legs and improving their rideability.
It looks like Andrew Nicholson and others went down a storm at the Eventing Forum last week and I'm sorry I missed it as I would have been interested to hear Christoph Hess's commentary real time. It's always interesting to watch peers working and pick up tips from colleagues in the exercises they use with their horses, as we all have slightly different methods and I'm always open to new ideas to supplement my own methods and exercises.
The older horses are all starting to do some fast work now and I've planned out their gallop programmes between now and their spring three day goals. The younger horses will do some work on the gallops as well as the work we are lucky enough to be able to do closer to home on the natural hills and banks we have at our disposal. It's not many weeks now until the season will be upon us and between now and then the horses will also get out for some cross country schooling  – we are lucky to have a great local facility at Swalcliffe which drains really well so I'm able to get out and jump the horses on grass around some cross country fences which is beneficial. The older horses don't need to go out much but the babies benefit from several sessions.
This week also sees us out at our first competition with dressage at Hunters on Friday – it will be an interesting, but I hope not too exciting day! The babies are out for their first competition of the season – I'm hoping Tonto and Dylan will stay in the ring and strut their stuff and I also have Alex, Dotty and Drax out and about – hopefully they will show the younger ones the ropes and not be too excited to be back out at a party! Neck straps are likely to be needed but hopefully all well go to plan!
Cheers,
Bill
Posted 9th February