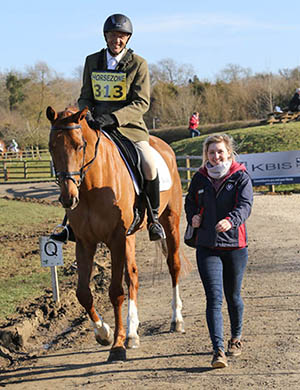 What a beautiful day to start off the 2015 season. I can't remember a time when I've started the season and it really felt like a lovely spring day. Today we just struck it lucky and it certainly made for an enjoyable day out with Sparkles and Ziggy. Considering they had a good bit of rain last week at Aston the ground was surprisingly good. Nigel and his team have put together a few lovely courses, very straight forward for the real babies who have never been out before, and an option or two to give you a chance of getting around.
Dressage today was good with Ziggy winning his section and Sparkles lying in about 4th place. Ziggy was a little naughty in the show jumping, spooking at a filler, and just whipped to the side for 4 penalties. However he is a totally different horse now to the one that turned up a few months ago and I really find him a lot easier to ride. We've been taking him to the gallops to improve his fitness and I certainly felt the benefits of that in his cross country round.
Sparkles was very genuine, concentrating hard for a nice test and a double clear. He was a bit perky in the showjumping, just really keen to be out and doing something. He does feel like he is growing up again from last year and he gave me a lovely ride cross country.
So all in all a really enjoyable day. Only one little mishap – I thought my body protector was in the lorry but it wasn't, and luckily Nigel Taylor kindly lent me his! Our lovely new Uvex hats were taken to the secretaries to be tagged. So, I must remember to pack my body protector for tomorrow when we're back with Tonto, Cassie and Dylan. Jenny is also coming on Ricky for their first outing of the year; it will be nice to be out as a family and hopefully the weather will be kind again.
On another note it will be very sad to see Gus go tomorrow; he starts his long journey to California. I'm sure he will do really well as he is such a genuine soul.
Cheers,
Bill
Posted 7th March