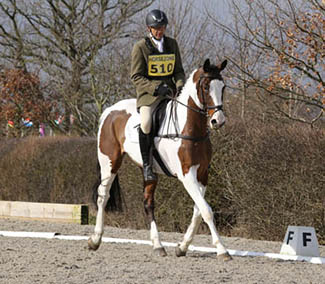 Today was a bit of a milestone, and as much as it is the very beginning of Cassie, Dylan and Tonto's eventing careers we entered the day with a bit of trepidation, not really knowing how they were going to go. But thankfully they all put their best foot forward and although they were green in places it won't take long until they're in the groove of competing.
Dylan is only 5 and last year he wasn't much like his well performed mother Chloe, but as the months go by he seems to be taking on many more of her attributes. Tonto, on the other hand, we know nothing about in terms of parentage, but we do know that he is a very sensitive but loveable soul, but one that with time seems like he will become very quiet. Cassie is just a lovely straight forward person – we bought her as a three year old at the Monart Sale and she's always eager to please.
Of the three Cassie won the dressage but they all did sub 30 tests and were very well behaved. They then went well in the jumping phases bar a couple of green moments here and there, so I was thrilled with them.
I still haven't lost the real enjoyment of producing horses up through the grades and I think the day I stop enjoying that it will be the day I have to hang up my boots. It seems all three will make good event horses so that is very exciting. The course for the BE90 which Nigel put together was perfect, very easy and flowing, a nice little cross country school for the babies. I'm hoping Oasby will be the same next weekend.
Not quite the day we had yesterday in terms of weather but the rain held off until lunch time and even then it was only a bit of a spit thankfully. We were all done and dusted by half past two and are heading home now, which certainly makes for an easier Sunday. Sadly I don't think Oasby will be as forgiving for us!
Jenny joined in today on Ricky and it was a nice day for them, finishing 10th. I think they will be working their way up to novice this season, further developing the partnership. So the first weekend of the season is officially over. Roll on 2015 as the season builds.
Cheers,
Bill
Posted 8th March