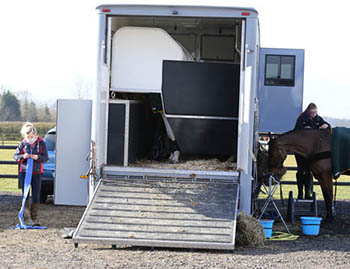 Well, yesterday was wet and cold, and today was just plain windy! Seeing as the big boys (and girl) didn't get to Gatcombe we decided to go out for another bit of showjumping practice at Weston Lawns. It was so windy that it took a great effort from the organisers to keep the jumps standing up for all the classes as they were blowing over so regularly. Thankfully we managed to get Alfie, Womble, Sparkles and Dotty all jumped, and although we were in difficult conditions they all settled to the task.
I suppose the only consolation was that it wasn't wet. Dotty and Sparkles both jumped well and benefited from having the opportunity to jump a couple of rounds and just contine to gain experience show jumping – both are young horses and continue to make good progress.
Alfie and Womble felt like they were both really in the groove today. Long may it continue! This week again is going to be another busy one, with dressage lessons, galloping, Somerley with the babies on Thursday and Burnham Market at the weekend with the big boys. These last few weeks before Rolex seem to be flying by at a hundred miles an hour. One thing that gives me confidence though, is that both Alfie and Womble are in their second year of four star and it doesn't seem like we are playing catch up, really just trying to realise the potential they both have.
Cheers,
Bill
Posted 29th March