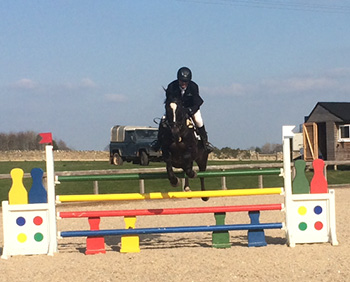 So nice to see some good weather; hopefully it will hold through until the weekend at Weston Park.
Today we were down at Rectory Arena for more combined training with Alfie, Womble, Dotty and Alex. Both Alfie and Womble are settling into their work well, just another run for both of them and a bit more fitness work and they will be ready for their main targets.
They jumped another 1.30 showjump track today and they are starting to cope with that really well. It's nice that Rectory were so accommodating, letting us take the time to warm them all up properly – we had all four horses doing the advanced today so we would have run short of time otherwise.
It's another late drive home as we were the last to jump again. Alex and Dotty were putting their best foot forward as well at this level, not quite as established as the others so still a little off the pace, but they produced promising work none the less. They definitely have the potential to go up the levels as Alfie and Womble have.
Galloping tomorrow with the big boys before their run on Sunday at Weston. If all goes well after this weekend it will be full steam ahead to Lexington! Very exciting.
Everyone at Team Levett is enjoying the nicer weather, tomorrow the horses will start getting turned out in the proper summer paddocks which will be great.
Cheers,
Bill
Posted 8th April – photo Emily Littlejohn