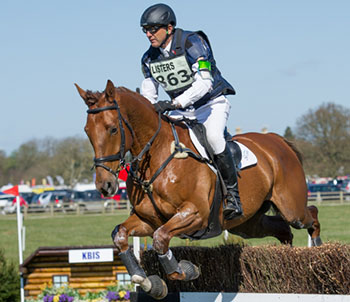 Day two at Belton has finished and we're now driving back home to the Cotswolds. Today we took Sparkles (pictured) and Drax and it was also my first chance to walk the 3 star cross country course for Alfie. It was a beautiful spring day with not too much breeze. Like I said yesterday, the intermediate course was strong enough so it was nice to see Sparkles go around it very easily. He certainly is a natural cross country horse. He jumped a nice double clear with a few time faults, finishing fourth at only his second intermediate. He is certainly one for the future.
Today was my first ever outing on Drax at the intermediate level, and as in previous competitions, he's still a little tense. Again today the cross country was in sight of the dressage arena and the speakers were quite loud. When I ride him I feel like I haven't quite developed enough of a partnership with him – that will take most of this year to come together.
Tomorrow I have Alfie's show jumping and cross country to do. That is my last competing before I head to Rolex. Alfie managed to stay in the lead in the three star, a really big class which is very pleasing and my best ever CIC*** score – 36.6. So all being well tomorrow, we'll try to finish the job off with a good show jumping and cross country. Hopefully this time tomorrow I'll be sending you another one with good news that Alfie has jumped a nice double clear.
Cheers,
Bill
Posted 18th April – Photo Trevor Holt