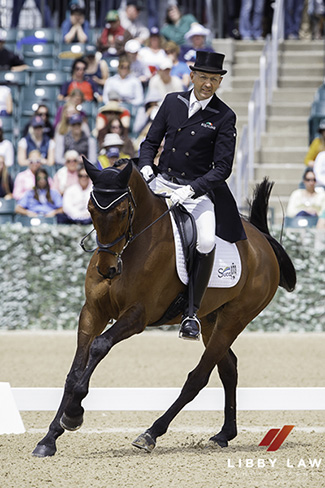 Well, our first real day of competition is now done and dusted, and there were things to be positive about and things to be a bit down about.
Womble gave me his best ever work outside the main arena and I now know with confidence that I have a horse with the potential to post a sub 40s dressage mark. However in the arena he got a little tense getting a spook/fright at something near the stands as I turned to do my medium trot, and we blew that movement. It then took several movements to get him back with me.
He also, for re first time ever, struck in to himself during the canter work – but overall he did better and better work during the test and got his changes cleanly. So we recovered well – as a good summary. We ended up on a. 48.4 which left us in the top 20.
The day was really nice with warm weather and less wind but tomorrow is different matter; a rubbish weather is forecast with torrential rain and storms, so the start of the cross country has been pulled forward to 9.45am and horses are running closer together. This means that I will go at 12.40pm instead of 2.08pm as they are hoping to get the cross country finished before 1.30pm and miss the worst of the storms.
Tomorrow is another day and the course will take a lot of jumping and a horse with plenty of stamina to get round – both Womble and I need to play our part.
Cheers,
Bill
Posted 24th April – Photo Libby Law