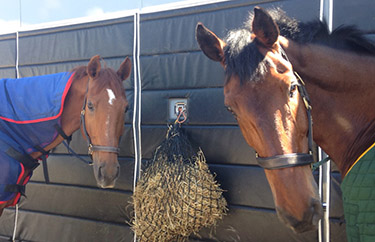 Today was another day at team training. It was nice to jump the horses around some courses.
The day started off very wet but thankfully it didn't last too long, by the time we were finished the sun was out. The horses jumped well and it was a good thing to do with all of them – Alex, Sparkles and Dotty all continue to improve and Drax and I continue to build our partnership. Jumping around a big technical track with Alfie today was also very beneficial in advance of Badminton next week.
It seems surreal to be home from Lexington and Womble to be at home in his stable as it was such a long ordeal to get over there. Only a few days now until we head off to Badminton, our second major target of the spring. This coming weekend we have a good few horses running at Withington. It will be nice to compete somewhere so local.
On arriving home it's been very satisfying to see Poppy and the team have kept everything so well organised and the horses so well managed. It's quite a hard thing to keep everything so organised when you're away and you're only as good as your team at home, although I must add that Jenny is fantastic at staying in regular communication, which helps as she and Poppy at home can talk through the different things that arise.
I must say it was a privilege to be able to compete at Rolex and without the generous support of Liz M it would not have been possible. If we ever get the chance to go back again with a horse, having done it once, it would certainly be an easier exercise.
Cheers,
Bill
Posted 29th April – Photo Poppy Tutcher