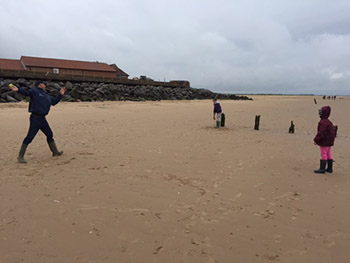 So on Saturday Jörn had a long wait after the trot up in the morning until he show jumped at four o'clock in the afternoon. It's always hard to have that wait but luckily there was lots going on to distract himself with, including watching the CIC3* show jumping and cross country for the nations cup.
I also had the added distraction of the kids so we had trips to the fun fair and clown area and all sorts to keep me on my toes. The weather was kinder to all on Saturday and the sun even ventured out from time to time.
I felt the show jumping was on the small side for the CIC class, although I'm very conscious that it's easy to say this kind of thing when you're not riding!
The CCI1 star course was overall not as big as I had expected but there were one or two square oxers in the mix throughout the course. There were not many many clears, but there were some. Jörn couldn't afford to have a fence as there was not a fence between the top eight, but he kept his cool and Paul, his horse, also did his part – keeping his concentration and producing a well deserved clear to finish on their dressage score and maintain their second place. A huge credit to Jörn to achieve such a good result in a big field.
He is a hard working lad and he now heads back to Germany, and back to riding dressage horses as his main job while pursuing his eventing alongside. It has been a pleasure to have him based with us for the last few months.
For me today we are venturing to the beach with the kids for a spot of beach cricket and then home and back to work the horses.
Cheers
Bill
Posted 31st May