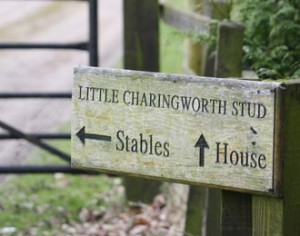 We have reached an historic milestone today, we have finally completed on the purchase of Little Charingworth Stud. It has been a dream of ours for a while to own our own home. As some will know I've been at Little Charingworth for fifteen years originally coming here to work for the property's previous owners, looking after their horses. When they moved on one of my long time sponsors and supporters purchased the place so I could continue pursuing my dream of being a full time event rider.
Ten years on, after much planning and buying and selling of horses and Jenny working hard in London, we have been able to purchase the place as we didn't want to move anywhere else – but raising the deposit has at times proved challenging as we are lucky enough to live in the heart of the Cotswolds.
Anyway its now ours… it's been a long old process  over the last year as securing a mortgage for an atypical property in the current economic climate has been a challenge. We lost a mortgage offer on the eve of going to Australia last year, but then out of the blue and much to Jenny's surprise my being an event rider finally helped us secure financing as we stumbled across an advertorial in a local magazine which our friends Sam and Lucy Griffiths had done, talking about how they'd secured a mortgage! We got in touch with the bank, Handelsbanken, immediately and a fantastic chap called Peter Wallis helped us out: we knew we were on to a good thing when his eyes didn't glaze over when we mentioned eventing – he knew what it was without us having to mention 'it's what Zara does'. The rest is history….
Anyway I've already started  plotting in my own mind as to where I want to plant trees and improvements I want to make around the place… so watch this space.
I took Hipp and Tim to the gallops today, and they worked well, their fitness is coming along nicely for Badminton. It's a fine line between bringing them on and ensuring they don't peak too early or get too tired. Luckily both horses have been really fit before which always seems to make it easier to get them fit again.  I also worked all of my horses that are running over the weekend at Weston Park – I'm hoping they will go well; Harry is making the step up to intermediate and I get to ride the four star Badminton test with Hipp and Tim all of which will be interesting.
I will report back over the weekend on Weston Park.
Cheers,
Bill
Posted 9th April – Photo Gracie Gardner