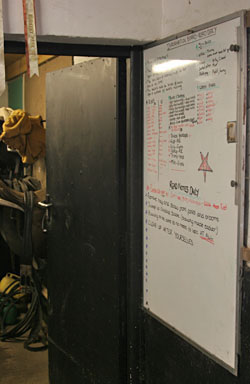 Anyone who knows me knows that organisation is not my strong point, Jenny however couldn't be more opposite. Usually we all run for cover when Jenny starts to write her lists, however they do have their uses – as running a yard has many moving parts and success is often dependent on taking care of the detail. The latest joke in our house is that Jenny has recently got a coloured printer for her business and so now anything I haven't done on my list gets delivered to me not only in capitals but in RED!! She's yet to realise it makes me no more likely to do the task but it keeps her happy.
In all seriousness there is a lot to be kept on top of in running an eventing yard or any horse yard – the horses training programmes (importantly building in down time for the horses), lessons for the working pupils, planning, monitoring and adjusting the feeding programmes of the horses, ensuring timely physio and shoeing of each horse, worming programmes, ordering for the yard – feed, bedding, yard supplies, medications, tack, horse equipment, checking and repairing/maintaining horse kit and yard equipment, maintenance of the yard – horses have a habit of breaking things and there is a constant programme of maintenance to ensure everything is up to speed including the lorry. The current focus is the fields, ensuring all the fencing is up to speed and that the fields are harrowed, rolled and fertilised at the right time to ensure we get the best spring grass growth possible. You can see why those damn lists are so irritatingly important!
This week I've ended up at home more than I had originally expected as unfortunately Bettina has been sick so I wasn't able to have my dressage lessons as planned on Tuesday. Instead I worked the horses at home, focussing on the moments in the upcoming Badminton test. I break down the movements within the test and then repeat them over and over again in my training to ensure the horses gets more and more secure in what's being asked of them. While repetition is important its also important to ensure the horse doesn't get sour or over trained. I consciously have to stop myself from putting to much pressure on the horses or myself in these last vital few weeks. It is really important that I and the horses get to the event fit and well, and well prepared but as importantly fresh  – this will enable us to be at our best.
Anyway I'm off show jumping today at Weston Lawns; they have a great surface and I want to jump Hipp and Tim around a couple of bigger tracks before Badminton especially after our last outing at Burnham Market which didn't go quite as we'd hoped.
I will keep you posted on how we get on.
Cheers,
Bill
Posted 16th April