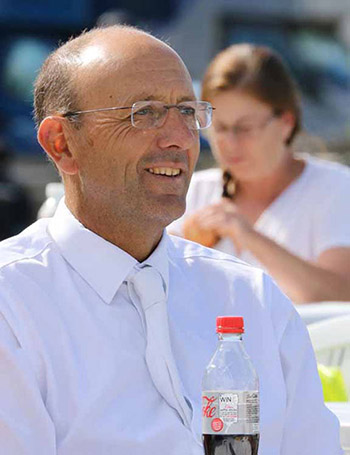 Day two is done and dusted – it's been a beautiful day, good English summer weather and the ground was perfect today as they'd had quite a lot of rain overnight.
It was a mixed day in terms of horses as we had Dylan doing one of his last BE100s, Ziggy doing his first CIC** test and Jenny doing the BE100 with her two, Ricky and Cassie. We also had a few extra passengers, with the three dogs and the two kids so the lorry was pretty full. Emily was very patient dealing with the chaos of children and dogs on a hot day! The girls at home are doing a great job keeping the show on the road for three days on the trot while we are away at Somerford.
It was satisfying to see Jenny out having a couple of nice rounds, making the most of having two horses who can genuinely give her lots of fun. She just needs to go faster now!
Dylan feels very confident in the jumping phases of BE100s and more than ready to go Novice, which I think will be a good experience for him. He is behaving better when he goes out and about now although he still has the ability to throw himself about in the warm up which is quite entertaining.
In between Dylan's and Ziggy's dressage tests I managed to walk the cross country for the CIC**. The two star track is a variation of the Intermediate cross country – I think the lines will work well and the course should flow and be fun to ride around.
Ziggy was the star of the day; even in the warm up I felt he was going very well. He continues to create a lovely picture for the judges and they all seem to want to give him marks; he got a 36 which is an impressive score for his first two star. When we left the only horse which was in front of him by a point was a seasoned four star campaigner who is known for his dressage – so it was very pleasing for all Ziggy's connections and for me.
Both Sparkles and Ziggy have accounted for themselves very well in the dressage, let's hope it continues in the jumping phases tomorrow.
Cheers,
Bill
Posted 22nd August