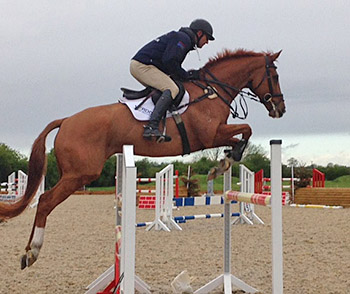 It's been a busy day all round today; an early start riding a couple of advanced horses at home before heading off showjumping training with Womble and Alex ahead of their Burghley and Blenheim performances. I picked up some more good pointers and tips so hopefully that will all come together well on the day. Then it was on to Gareth's with those two plus Alfie for a team training dressage afternoon.
Again a few things picked up which will hopefully help us achieve the results we want. It's such a fine line between pulling off a nice test and a really smart one and I'm hoping to try and do some personal bests with all three of the boys this autumn. It certainly feels like autumn now as it has rained all day today – thankfully Gareth has an indoor which we warmed up in and saved us for a little bit!
Let's hope for some nicer weather next week at Burghley. I'm rushing home now as I'm on the panel for the Monart sale again this year and am catching a plane this evening to head over to Ireland for a day of selecting horses. Looking forward to it as always.
Cheers,
Bill
Posted 24th August – photo of Alex by Poppy Tutcher