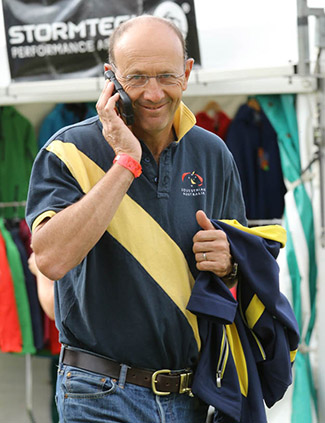 Another trip to Wellington today, this time with Natty doing an advanced and Alex the CIC3* showjumping. They have had quite a bit of rain overnight but it didn't seem to affect the ground as it was still soft but not deep.
We got there early this morning to give Natty a ride and then I walked the cross country course. After walking it I thought it was a strong track and certainly plenty to do. There were some big wide oxers as well as fences that took some bravery from horses to find their way through.
Seeing as Alex had gone so well at Hartpury I thought it best just to do the showjumping today, unfortunately he tapped the first fence but jumped the rest beautifully. Blenheim is still a couple of weeks away but I think it's best just to get him fit on the gallops until then so we can get there with a strong, confident horse.
Natty was doing her second advanced today and it was definitely a big step up from her first at Aston. The trot work in her test was of much better quality but the canter work still needs a few more months of work. When it all comes together she will do a competitive test.
She had a couple of rails in the showjumping which is a shame as she is such a good jumper, but when the fences get big she jumps a little higher and loses her forward movement, and in turn at combinations she can find the distances a little long. I'm sure with time all these little things will iron themselves out.
The first half of the cross country course she needed me behind her giving her confidence, and at about fence 10 there was a big step up to a bounce which she found a bit confusing and we had a couple of stops. I jumped the alternative and galloped off, the only problem being there was a C element which I forgot to go back and jump, and so sadly we got an elimination, but thankfully we didn%2