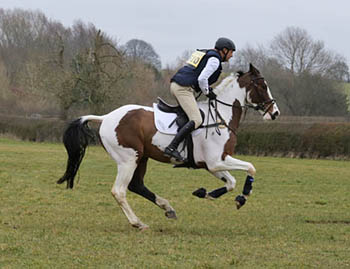 After a wet start this morning heading off to Gatcombe, the day itself turned out to be quite nice. Today was a day of novices – Tonto,and Dylan. Dylan came out first and was fairly well behaved for his dressage, which was nice. Tonto was much better in his test, the second time in a row, until the lady at the next arena decided to get out of her car and crouch behind it to have a cigarette. So every time we went past that car in the canter work he got fairly tense. He is a very sensitive fella and is very aware of any changes going on around his arena. The nice thing was that once those mistakes are ironed out, he will do a competitive dressage test.
Show jumping didn't go quite according to plan, as Dylan got excited and managed to bump 4 rails down. Tonto was also a little tense at times and lost his shape – he had 3 rails down. I'm hoping with the younger horses over time that they'll continue to relax a bit more and be able to concentrate the whole way around the track. Dylan continues to do the XC well, and made the novice today feel fairly easy. As I said there was a good bit of rain last night and so the ground felt quite nice to ride on.
We're back tomorrow with the 3 CIC** horses and we'll see whether we can come home with any rosettes from there. Sparkles is best placed right now out of the three – about .2 off the lead. I'll be interested to see how well the XC flows – historically I've found the 2* course at gatcombe had some fences not really allowing the horses to jump well and come away with a good experience.
As the rider rep I had a chance to talk to the Princess Royal today about the water fence which was a bit punishing last year and she is confident that with the changes made it should work and flow a lot better. I for one am hoping that she is proven right. The overall track seems to stop and start in a couple places. It would be nice if, over the next few years, they could get it to flow a bit better.
Cheers,
Bill
Posted 12th September