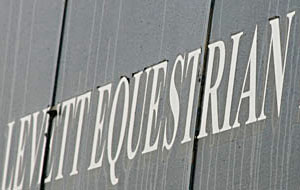 Today (Monday) is always, if possible, a quieter day for me. I try to ride a few less and to have a few hours for myself on a Monday during the season. I like to take the kids to school and then pick them up and spend a few hours with them in the afternoon.
Today they are off on their first school trip so I've been left with strict instructions in making packed lunches that are mummy/school compliant as if left to Ursula and Josh I would be filling their lunch boxes with sweets, biscuits and cake!
I'm also off to the physio to get my back sorted again, it needs regular attention just to help it along. I've also got a minor ligament strain in one of my knees which is irritating. It doesn't hurt when I ride but walking aggrivates it. The joys of years of falling off and getting older…
Hipp and Tim have had a jump today, I've set up some xc fences and also more technical lines in the school with show jumps to keep their and my eye in and keep us all sharp.
Packing and lists are the order of the day as Wednesday will soon be upon us. Vicky is busy organising the lorry and ensuring everything is packed. We have over the years developed a "list" of what we take to 3 day events which helps us try and minimise the risk of leaving useful bits and pieces behind. Packing for horses is akin to packing for small children – they seem to need an inordinate amount of stuff!
Tomorrow I'll take the Hipp and Tim for a gentle canter to get their heart rate up at the gallops and it's also a chance to canter the horses aiming for Houghton and Bramham as its important the programmes for all the horses continue forwards.
Off to pick the kids up.
Cheers,
Bill
Posted 26th April