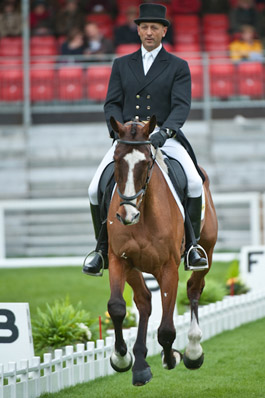 It's been a good day! Tim did his dressage this morning and I was really pleased with him. I had set myself a goal of a mid 50's test and he ended up on 51.7, and is in 17th place at the end of the day.
Tim tried really hard and was more settled than I had expected. We are still building a partnership together and I wasn't sure how he would cope with the atmosphere. There is, as ever, lots of room for improvement and we fluffed one change, and he broke in the walk and didn't settle that well in the rein back but there were also some really nice moments particularly in the trot work.
I've also worked Hipp today and had more help from Wayne (Roycroft) which has been really beneficial. It's always helpful to have someone on the ground watching angles, positioning, bend etc. Always very valuable.  Hipp is finally beginning to settle a little more – he's a sensitive horse and is quite attached to Tim (much to Tim's disgust) and isn't enjoying the stables at Badminton. The horses can't see one another, so Hipp has found the first few days a little stressful and taken a while to adjust but he's getting in to the groove now.
I've walked the course again this afternoon with Jenny and am getting clear in my mind as to which routes I'm going to be taking with each horse. The whole course needs respect and there's a lot of jumping to do from the Countryside Complex onwards, particularly until after the Shogun Hollow. I'm thinking of going straight in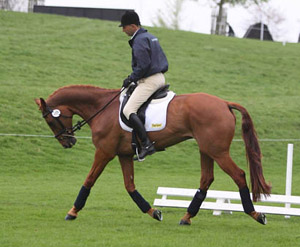 most places apart from the Quarry where I'm as yet undecided and also the Shogun Hollow where I think the corner on the out is very difficult and could come up on a half stride.
I hear we are due a lot of rain on Sunday so that may play a factor in terms of which routes I finally decide to take depending on how much rain we have and if the ground gets slippery on top and/or very cut up at fences such as the Colt Pond.
Hipp is doing his dressage tomorrow afternoon and I hope he will settle in the main arena and cope with the atmosphere – only time will tell. My job is to ride as well as possible and ensure I prepare him as best I can for the test; then he has to do his part. Tim will have a hack in the morning and then a jump in the afternoon.
Time certainly races by each day. I'm now off to join my fellow Aussies to walk the course again in the quiet of the late afternoon with Wayne Roycroft who always provides many valuable insights about the fences and how they might ride.
Cheers,
Bill
Posted 30th April – Photos FSM & Trevor Holt