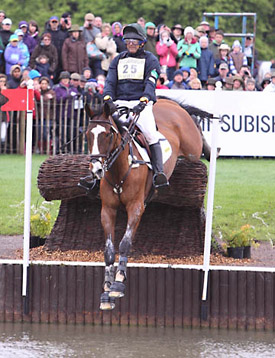 It's the end of a great day – one of those days when everything seemed to click. I rode really well and the horses also did their part really trying hard, and answering every question.
It was a bit of a journey into the unknown as Tim is a new ride for me and Hipp was making the step up to four star so I couldn't be more thrilled.
Tim gave me a great confidence giving round. I had been concerned at how strong he might be (as he's been known to get very on the bridle) and was he fit enough as I don't know him like I know Hipp. On both accounts I was pleasantly surprised. Like all rounds at four star not every fence comes up how you would like it to and the Countryside Complex (flower pots) didn't go quite according to plan but Tim pricked his ears, sorted out the problems and had a great desire to get us to the other side of the fence.
Tim has a wonderful gallop stride and the big Badminton galloping areas between fences were made for him.
Being Hipp's first four star the big question was was he going to cope with 11 and a half minutes and those big energy sapping fences; with a clear round cross country and 8 time penalties going one long route I was over the moon. Again he tried his heart out and got us out of a spot at the Countryside Complex. He was also top through the waters.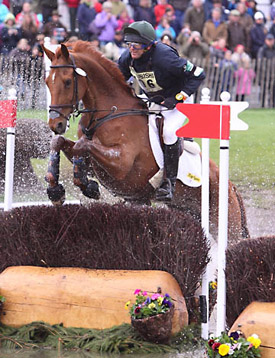 Overall the course produced a great result with only 4 people getting the time and trouble at a whole variety of fences – this is how eventing should be. There were a few surprises where great horse/rider combinations didn't have a good result but that's eventing, it's full of ups and downs.
I was surprised the double of corners caused so many problems; a lot of riders had felt these would not be out of place at a strong intermediate competition, but how wrong can we be!
The horses seem so far to have pulled up well and are having some well earned rest after icing and massage. Tomorrow is all to play for and I'm thrilled to have the opportunity to be riding two horses in the afternoon jumping session! I'm currently placed 10th and 20th which I'm really pleased with – the scores are tightly bunched with only a rail in the top 5 and following 10. So let's hope my run of good fortune keeps going.
Cheers,
Bill
Posted 2nd May