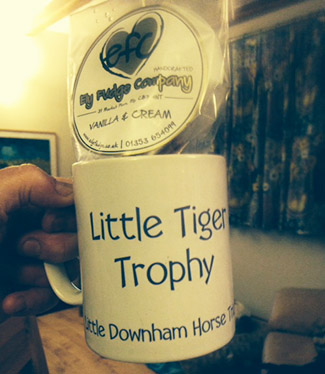 We had an early start heading up to Little Downham with Thurman and Natty, both inexperienced at their respective levels with Thurman doing his first Intermediate and Natty her second Advanced so off for a big adventure but feeling positive as I have belief in both horses.
Travelling to Little Downham certainly felt like a real Autumn morning – dark and a bit cold! For the first time this season I felt like winter is really on its way! I thought the ground at Little Downham today was good with a bit of cut in it having had quite a bit of rain overnight.
Thurman put his best foot forward producing an obedient and very competitive test while Natty stayed relaxed until the flying changes which she struggles with, I'm really hoping I can rectify this over the winter but today the canter work was quite tense. Natty's trot work is really improving but where she really shone today was in the jumping phases. She really did put her best foot forward and jumped a lovely double clear. For only her second Advanced it was a decent ask cross country with lots of opportunities for run outs! But to her credit she made all the right choices and it was certainly satisfying to get a clear round such a decent Advanced track. It will be interesting to see how she improves on the flat over the winter as I think this will feed into all three phases as she starts to relax.
Thurman was a star considering it was his debut at Intermediate, and like Natty when asked the questions he really responded, jumping a lovely double clear with a few time to come second.
Not to be outdone Natty also finished the day with a prize which was for the smallest horse to jump clear round the Advanced! So all in all a good day, now for the long trek down the A14 back to the Cotswalds.
Cheers,
Bill
Posted 5th October