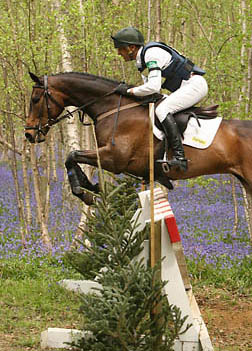 Badminton already feels a long time ago and there is definitely no let up in what has been another busy week. In many ways it's nice to get back in to the day to day activities in the yard and I certainly enjoy getting back in to training the horses – I wouldn't do this job if I didn't enjoy the training process.
I'm aiming Harry and Coco for Houghton and Bella for Bramham so these three horses are still in the thick of their fitness campaigns for their respective three day events. They may not be heading for a four star but whatever level of competition you are aiming for its always important to ensure the right level of fitness is achieved. I also find that the first time you get a horse fit it definitely takes more effort as more experienced (and typically older horses) that have previously been fit before seem to (a) retain a level of fitness and (b) get fitter a little easier each time – although I'm not suggesting cutting any corners.
Anyway as I say its been a week of going to the gallops and schooling the horses at home. I've also taken Thea and Darian to Moreton Morrell where they both had a successful run. Thea was taking part in her first BE100 with Dollar and managed to achieve a very respectable dressage of 28 despite an error of course and then Thea and Darian both had good rounds show jumping and cross country – both improving all the time especially in their jump riding.
I'm at Hambelden today and tomorrow, today Friday with Tommy, Alex and Fin the three young horses I'm slowly producing on. I really like Hambelden as an event, it always has an interesting cross country course with lots of variety and different fences – the steps down often course problems with young horses as they tend to take the young horses by surprise. The first water near the trade stands also catches a few out particularly in the novice and intermediate;, it comes up pretty quickly and often riders don't ride it positively enough. If you look at it cold its not an enormous jumping effort but with the distraction of the trade stands and people and proximity to the previous 'bank' fence it always take some riding.
The Hambelden Estate is very picturesque especially at this time of year as the woods are overflowing with bluebells so you gallop through the woods through a sea of purple – I'm sure the photographers make a fortune here from riders with such great backgrounds to their shots!
Alex, Tommy and Fin are all improving all the time and I was really pleased with them today, Alex and Fin both jumped double clear, and did OK dressage tests – they have huge potential but I'm taking my time with them on the flat as I don't want to put too much pressure on them too early. Its important that they learn to go correctly in terms of being straight and forward and off the aids and that the important thing for me – so I'm not winning the dressage on them just yet but give me time and they'll be dressage divas! Tommy was also great – he's such a precocious talented pink pony, he had a frustrating rail which is ironic as he has a fantastic jump, he will also be a great horse for the future I think he's incredibly athletic and so light on his feet – reminds me of Minuto in so many ways.
I was particularly pleased with how they all went cross country as they are all beginning to learn their job and coped with the range of different questions which Hambleden's course had to throw at them . The ground was good and all in all a very good event and good day's work.
Back tomorrow late in the day after a trip to the gallops for Harry in the NRF.
Cheers,
Bill
Posted 7th May