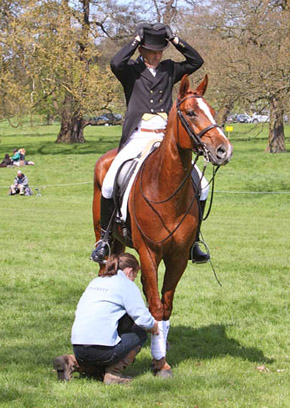 Well it's been a pretty good day at Chatsworth although I'm not in the prize money at the moment! As I mentioned in my last blog I've got my two red headed ladies with me, Figgy and Bella. Figgy is a horse I've only been riding since the end of last season, she has lots of potential and I'm sure that I will one day win a lot with her. She has a great jump and good paces and is very trainable. Like all horses she is not a machine and the partnership isn't developed overnight. She got a bit tense in the dressage today, I'm not really sure why but I will experiment next time and do things differently, either  a slow canter the day before at home or a lunge before I ride her in for her test. It's all very manageable and fixable so I'm not concerned but it was frustrating as she's been working very well at home – she will settle as she gets to know her job more and becomes more established in her flatwork as despite her chestnut colour she's not a hot head!
Post her dressage Figgy went really well with a lovely double clear; she felt really confident in both the show jumping and cross country – I feel like the partnership is really coming along in the jumping. So I was very pleased with her – the novice show jumping and cross country were both nice tracks, encouraging for the novice horse, so I'm pleased I brought her.
Bella did her dressage for the World Cup class this afternoon and I was pleased with her overall. She scored a 64. The dressage arenas have lots of atmosphere (a good thing) and she was calm and obedient enough and I feel hopeful that I will get closer to my goal of a test in the 50's soon enough. She is improving all the time in her confidence in the work and I keep playing around with her warm up for the test and mixing this up vs. schooling at home. She seems to go better with a good lunge to stretch her and then a short ridden warm up immediately before she goes in for the test.
I've walked the cross country for the World Cup class this afternoon and it's big enough. The ground is a little rough in places but it is a nice track and I'm looking forward to riding it tomorrow. I'm not planning to go quickly cross country tomorrow as our main goal is Bramham. However it's not the kind of course you can hack around, it will require some strong riding in order to ensure the horses are up for taking the track on – I'm a firm believer that you can't hack around a big 3 star track – cross country fences are designed to be ridden positively and out of a forward (not backward) rhythm.
The fences that I felt were particularly tough on first walk were a double of corners off a steep bank, but I think it you get the first one done the second one should be OK. Then there is a bounce in to water and another step up bounce out of water which will need a willing horse. At fence 7 there is a set of rails that bounce down in to a sunken road followed by two strides out over a skinny with a ditch underneath it which comes very early on in the track: I'll have to sure Bella and I are awake and focused early on in the track – lots of riding out there.
I'm off to find my stabling now, which is always fun and games as directions are not my strong point (even though Jenny has supplied me with them spelt out!). One of the few drawbacks of Chatsworth for me is that we all have to stable off site – it's a pain at the end of a long day – I love the event but do wish they had onsite stabling, it's nicer for the horses, riders and back up team.
I'll have another walk around in the morning before riding the course at around lunchtime tomorrow. Show jumping all being well is later in the afternoon.
Cheers,
Bill
Posted 15th May