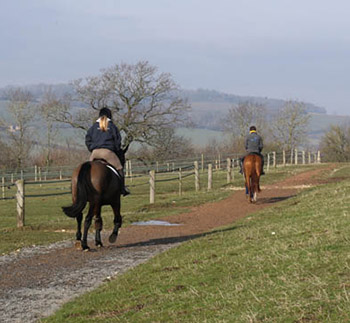 After my trip to the US last week it has been good to be back in the saddle riding the horses – they had come on with their fitness and core strength programmes while I had been away so I was very lucky to slot back in to dressage and jump training, being put through my paces with lessons with Gareth and then out show jumping with Ros at Addington. We are still experimenting with the horses, especially show jumping, in the training we are doing both at home and in the ring – it's been an interesting process and the journey is not yet concluded. I'm learning lots which is such a motivator to me and I guess is one of the things I love about my sport.
The weeks are flying by and there seem to be lots of clinics going on. I've just had a day over Cambridge way. As I left home early on Saturday morning it was really raining and so I had three coats on. At home it was heavy rain all day and so I was preparing for the worst. But actually it was just cold and really windy.
Sunday afternoon I spent a few hours teaching at Aston and although it is great to have the all weather surface you sure take your life in your hands in that arena, with horses going in every direction.
This week has been bad weather and I am hoping that the wind and rain will soon leave us as we were not able to canter the horses today at the gallops due to the torrential rain and high winds. Fingers crossed it will settle down and we will be able to get back to our normal routine shortly.
Cheers,
Bill
Posted 9th February