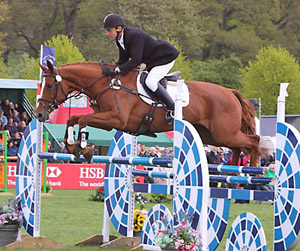 It was good to get Bella and Figgy home after Chatsworth. They both trotted up sound this morning, but Bella wasn't her normal loose self, with real swing from behind – so I organised for our physio to come today and give her 'the once over' to make sure she's OK. The physio revealed that she has pulled a muscle behind the saddle and behind her forelimb on the right hand side of her body – this may explain her unusual score in the show jumping yesterday – as the muscles she's pulled would be painful when she's at full reach e.g., stretching jumping a fence.
The good news is that we've caught it early and she's been treated and so with a few quiet days and some massage, stretches and the magnetic rug she should be fine and still on course for Bramham. It just goes to show that its always worth checking things out if you feel a horse is out of sorts.
Coco, our special 8 year old horse has now been sold to one of our owners for me to keep riding which is fantastic for me as he's probably the most talented young horse we've ever had. So let's hope we have the luck and can achieve some great things with him in the next 2/3 seasons.
Cheers,
Bill
Posted 17th May